Whether you're headed to work, to school, or out to dinner, you can power the future as you move through daily life.
Getting From A to B
Whether you're headed to work, to school, or out to dinner, you can power the future as you move through daily life.
One of the most impactful climate actions we can take is to make our daily commutes less reliant on fossil fuels. Simply put, we can't move forward without taking a close look at how we move around. That's why we're making it safer and easier to walk, bike, or take clean public transit, and more accessible to purchase an electric vehicle, and charge it any time you need from point-A to point-B.
A Better Way to Drive
Whether it's the thrill of getting behind the wheel of the latest model or the feeling of cruising down a country road, more New York drivers than ever before are embracing the benefits of switching to an electric vehicle. That's because EVs deliver instant power and smoother acceleration, yet they are quieter than a gas-powered vehicle. They are also simpler and more reliable, meaning EV owners deal with fewer part replacements and less maintenance, saving headaches and money on vehicle service. And did we mention that you'll never have to pump or pay for gas again?
So get behind the wheel and crank the tunes — it's time to drive electric.
Charging Forward
People considering EVs may worry about charging their vehicles and driving longer distances. We're here to put their myths to bed. Some EVs offer 300-400 miles of driving range per charge, as much or more than the average tank of gas. Some models even deliver over 500 miles of driving range per charge! With constantly improving charging technology and expanding networks of charging stations, we are taking steps to make EV range anxiety a thing of the past in New York.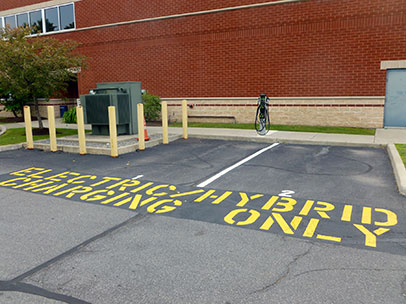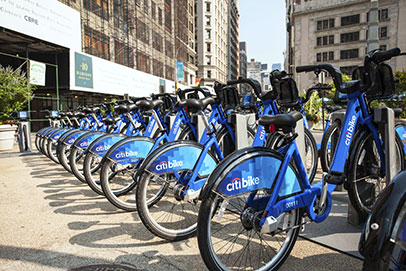 Getting Around Without Four Wheels
There are millions of New Yorkers who do not drive a car. That's why we are investing in electric bus fleets for public transportation, expanding bikeshare programs and adding bike lanes to our roads, and helping commuters find rides. If purchasing a vehicle is out of your budget, your commute doesn't call for four wheels, or you are not interested in owning a vehicle, here are some tips to help you limit your travel-related emissions:
Walk or bike to your destination if you are able
Use public transportation where available
Carpool with neighbors or coworkers
Instead of a gas moped or scooter, purchase an e-bike
Getting Your Business Moving
New York State has programs and incentives to help businesses and other fleet owners, such as local governments, transition their vehicle fleets to electric models and install charging stations at their facilities. This includes programs to help multifamily building owners install charging stations on their properties. Your business can help drive New York forward!
We Are New York. We Power the Future.